The Ultimate Light-weight Travel Yoga Mat
Yogi-Tested✓ Yogi-Approved✓
Durable, Compact, Lightweight
Avoid germs 🤢 - use your own props sanitized how you like them
Alleviate Chronic Pain and Stay Aligned
Elevate your home studio practice
Freedom to Flow at home or on-the-go
FREE SHIPPING NATIONWIDE

Delivery is on us for all orders shipped in domestic United States.

Shipping Info

GIVING

AYU FIT gives a percentage of all profits to causes making an impact in the world:

Children's Health Fund
Wounded Warrior Project
The Humane Society

365-DAY GUARANTEE

Love it, or receive a full refund on all purchases.

Refund Info
A Yoga Journey
As a life long health nut, I've tried every diet and fitness trend.  But it wasn't until I took a yoga class that my fitness routine transformed from a mindless physical 'work out' into a source of peace and mindfulness, it helped me ditch negativity, embrace flexibility and gracefully tackle life's ups and downs.
Soon, I found a community of yogis who resonated with this transformative journey and through them, my partner and I began exploring the world via Yoga retreats.   It was incredible connecting with so many different cultures and folks and discovering our  love of traveling, however, maintaining our practice on the go presented a challenge.
Although gyms and studios were available, they were often expensive and not always convenient. We then decided to design and create versatile, eco-friendly, packable yoga and barre products, perfect for travel and everyday use, ensuring you stay Zen, one journey at a time.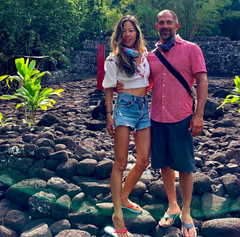 About You
Does chronic pain prevent you from enjoying a workout?

Slide the mini mat under your joints and fulfill your dream of a pain-free work-out. We help you get off the couch, stop daydreaming, and start stretching your flexors, hips, and hamstrings. Feel rejuvenated and energized!
Do you love travel but hate checking a bag?

We develop light-weight yoga props that you can easily fold or roll into your hand carry or backpack. 🛫
Want to avoid germs from shared props and mats?

Shared props means shared germs 🤢. Bring your own props and sanitize them however you want! Our lightweight, stylish, multi-purpose props help keep you healthy and, sane and mindful in your down dog.
Too busy for the studio schedule? Worried about fees?

Create your own home zen space with lightweight equipment and a home work-out on your schedule.
Love our planet and hate products that pile up in landfills?

Our eco-friendly travel mats are 100% bio-degradable and latex free.
Worried about your alignment, hand and feet placement?

Whether you're a beginner or seasoned yogi, the alignment guides on our yoga mats help you stay in perfect alignment. The 100% rubber surface keeps you from slipping and sliding while in your poses – helping you elevate your practice.

The grips socks help keep your from slipping.